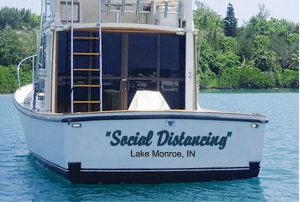 Boat Lettering,
FREE SHIPPING ON ALL ORDERS OVER $19.99
Hello Captian, we welcome you to custom design your vinyl lettering using our free online sticker designer. It is so simple to get started. Just enter your custom boat name and select your font choice. You will then enter your needed sizes and colors. You can choose several different effects including, outlines, shadows, arched text, and more. We offer metallic flake materials, and a full-blown gradient design tool to fade from one color to another. It's endless in what you can design, as you are inputting your selections the preview will automatically update your design in the preview box showing you your design. So take your time and create custom vinyl lettering for boats.
 Boat Lettering Material Information:
Our graphics work excellently in freshwater or saltwater. Made of high performance cast PVC film with excellent adhesive qualities. You can expect your decals to last up to 6 years outdoors and infinite indoors. We use quality name brand materials, including Oracal, Avery, and 3m so, you can expect your decals to be very easy to install and look great we offer fast shipping and overnight options using quality care. Also, we do custom work. So, if you have a custom design you had made for one of your projects, we can take your files and make them into an awesome decal. All you do is simply upload your file on our  Upload Your Custom Files Here.  You can also watch an informative vinyl lettering install video to help you get an idea of how to install the lettering yourself. See Boat Lettering Install Video on Youtube.  If you want to see how our vinyl lettering works you can view our how does vinyl lettering work link, to help you fully get the help you need. How does vinyl lettering work?