Custom Vehicle Magnets Order Online
Custom vehicle magnets
On this page, you can upload your artwork, size it to your needs, add your details to the comment box, and checkout. Next, we will set your file up and send you a preview for approval.
Once you are happy with the finished design we will put it into production and ship your magnets out.
Make your vehicle advertise and get that business. Magnetics are very well known for being a low-cost advertising method. Many people choose Custom Car Magnetics over traditional vinyl lettering. It's so much easier to install magnetics versus vinyl lettering. Custom Magnets are easy to take off and on.  Simply clean the surface and make sure it's dry and lay the magnets on.
You may also reach us by phone at 800-713-0309 or send an email.
Get Started Below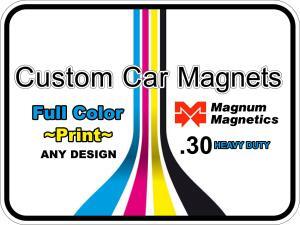 Upload Your Custom Art Work.

Made From High Quality  ~Magnum Magnetics~  See Video on Magnum Magnetics Here.  Video
All Logos & Designs Welcome
Files Accepted Include. AI, .PDF, .EPS, .JPG, .BMP, .SVG
"If your file type is not listed, Upload it, we can make it work"
Shipping Information:
It will be sent in a tube.
Warranty & Returns:
In the rare event, you have an issue.
Hoosier Decal Warranties your magnetics for 120 days.
Hoosier Decal Is a family own and operated business in Spencer, In.
We offer many more sign & vinyl lettering products.
We look forward to serving all your decal needs. Want to tell us more details about your order? Or maybe you like your files converted to vinyl lettering.
Magnetic Clean and Care Instructions:
• To guard against moisture and dirt buildup between the magnet and the metal surface
(particularly on outdoor applications), remove the magnet at regular intervals. Clean
both the magnet and metal surface with mild detergent; wipe with a soft cloth or allow to
air-dry. (For vehicle-mounted signs, remove and clean DAILY.)
• After waxing and polishing, allow 2 days for wax to cure before applying magnets.
• Be aware that long-term use on surfaces frequently exposed to sunlight (such as vehicles)
can result in uneven fading of the surface because the magnet-covered area is shielded
from ultraviolet rays.
NOTE: Doors and panels on some vehicles are not made of steel. This product will not work
on aluminum and plastic surfaces.